Some 6000 years ago:

Amboy crater was formed.

Some 500 years ago:

Amboy crater became dormant after the sixth period of eruptions.

1776:

Father Garces traveled over Indian paths from Needles towards Barstow and on to Los Angeles via Victorville and Cajon Pass. This would become a traditional route for pack trains carrying trade goods on an east-west route under the Spanish rule.

1848:

On February 2nd, Mexico surrendered California to the control of the United States.

1850:

On September 9th, 1850 (Admission Day) California was admitted in the Union.

1854:

Lieutenant A.W. Whipple crossed the desert following ancient paths to explore a route for a railroad to be built across the Mojave. He followed the Mojave road that was laid over older Indian trails.
Much like the path the natives followed, the path chosen had less to do with the steepness and more to do with presence of water. Steam engines needs lots of water to run.

1858:

Amboy was founded by miners. They were tapping sodium chloride (plain old salt). Amboy did find it's reason for being from the chloride works, not from the railroad. They extract salt from the dry lakes south of the town towards 29 Palms.

1882-83:

A railroad was constructed from Mojave to Needles by Southern Pacific following the path laid out in 1854.

1884:

Control of the railroad was passed on to A&P, which was controlled by the Atchinson, Topeka and Santa Fe railway (ATSF). ATSF is more commonly known as Santa Fe (much later to become BNSF)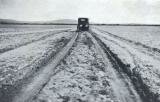 Car traveling in the Mojave before the road got a hard surface.
Picture in public domain (published by http://www.fhwa.dot.gov/).
1910:

National Old Trails Road is one the very first to start receiving various attention. There were multiple paths getting attention. These did include a northern path towards San Francisco, a southern path towards San Diego more or less along present day US-50 and the central route.

1911:

A.L. Westgard had been exploring routes for the AAA and in 1911 they published a text of his "... The original line of the Trail to Sunset was through Albuquerque, Globe, Phoenix and Yuma, ... but more lately there has been developed a new and shorter connection from Albuquerque through Holbrook, Flagstaff, Williams, Needles and San Bernardino to Los Angeles." This at the time newer alignment would become the official National Old Trail in 1917.

1915:

Major road improvement funded by local organizations have been completed and this results in the road getting recommendations to be used by people traveling to the West for e.g. attending the Panama Pacific International Exhibition. In part that recommendation was also based on the availability of accommodations along the route such as the Harvey Houses.

1916:

A report in "Touring Topics" said about the portion of the road from Cadiz to Ludlow: "motorists would find a fair dirt road with the exception of the 6 or 7 miles near Cadiz where there were numerous chuck holes and the road was very sandy.

1917:

All controversies are settled on the alignment National Old Trails is to follow. Through Amboy following what will become Route 66 is the final choice.
1926:

Route 66 got certified and it ran through Amboy on what was previously know as National Old Trails.

Late 1920s:

Road improvements lead to Route 66 becoming fully paved across California.

1938:

Roy's opens. Roy's was named for the original owner Roy Crowl. Roy and his wife Velma owned the town and had 2 children: Lloyd and Betty. Betty ended marrying Herman "Buster" Burris who rode into town and stayed first to work and later to fall in love.
Before Roy's got built, there was a Chinese restaurant and a garage in Amboy in the thirties to the south of the current location of Roy's. Roy's got built in the thirties around the time Route 66 got realigned.

1942-1944:

The area surrounding Amboy is used to train troops. General George S. Patton started the Desert Training center in April 1942. Most of the camps were south and east of Amboy.

1940s:

Roy and Buster become partners and grow the business into a 24 hour garage, expand the cafe and add motel to the cabins and offer 24x7 service.

1945-46?:

Smoke was spotted from Amboy's crater. The railroad and Route 66 got closed off for 72 hours. An airplane was used by the LA Times to make pictures, only to find out it was not about to erupt, but that presumably some local kids had set fire to a bunch of tires, wood, railroad ties and other junk to simulate a natural disaster.

1950s:

In it's heyday Amboy had a population of about 700 and had 3 restaurants and 3 gas stations a train stop and a bus depot. It was a prime stop in the desert and Roy's employed over 70 staff.

1959:

The famous sign got erected on Feb 1st, 1959.

1963:

The Mercury Police car was made that served for a while as an attraction at Roy's

1964:

The GM bus that was parked in front of Roy's was made.

1972:

Route 66 from Ludlow in the west to Fenner in the east got replaced as the favorite crossing by the just completed I-40 in 1972, effectively cutting off Amboy from the traffic flow. After most people left, Buster took the bulldozer to most of the town himself and left only little remaining: Roy's, the post office, the school, the church, the airport, ... a total of 15 buildings.

1975:

Amboy Crater was declared a National Natural Landmark.

1977:

Roy Crowl dies. Roy's is kept open by Buster, but the he seems to have lost faith in it. It appears that Buster decided if he liked visitors or not and that some would get chased off at gun point.

1978?:

Betty died of Cancer earlier and in 1978? Buster would remarry Bessie.
Bessie used the Lobby of the motel as a gallery for her paintings and pottery.

1986:

Roy's had became over the years a site for shooting movies and commercials. In 1986 part of "The Hitcher" was shot shot in Amboy.

1995:

Buster retires and moved with his wife Bessie to Twentynine Palms.

1995:

Walt Wilson and Tim White leased the entire town from Buster. Walt is a Caribbean restaurateur and Tim is a new York Celebrity Photographer. They both share a love for touring their bikes and met by chance.

1999:

The school closes as the last of the students moved away.

2000:

On August10, 2000 Buster Burris dies at age 92, leaving his wife Bessie behind.

2000:

After the lease expired, Walt Wilson and Tim White managed to buy the town from Buster in 2000 for $710,000 . They used it mainly to try to attract more of the Hollywood types and didn't seem to care much for travelers on the Road. The accounts of inhospitality to downright being chased away are unfortunately numerous. The movie industry found it possible to fly in and have a burger at Roy's making it a very costly burger if you include the transportation. Part of the extreme unfriendliness might have to do with the kind of movies they were shooting there at the time. Some adult content just doesn't go well with being open to strangers I guess.

2003:

Amboy was offered for sale on Ebay for a month ending on April 4th, The asking price was 1.9 Million. The highest offer was $995,000. It went unsold.
At the time of the sale, the population in 2003 was 7, it's unknown if that number included the owner Walt Wilson and the caretaker Henry Orrante.

2005:

In February 2005, Amboy got repossessed by Bessie Burris.

2005:

On May 3rd, 2005, Amboy got sold to Albert Okura, owner of the Juan Pollo restaurant chain. The unconfirmed amount the property got sold for is $425,000 .

2005:

One of the biggest challenges seems to restore water and electricity to Amboy. Water had been brought in by rail for years. And Buster had himself built a line of electricity poles.

Late 2005:

To prevent further vandalism, a caretaker Larry Stevens, is now living on site. Plans to sell gas again are still on.

2006:

Roy's is selling bottled water again.

January 2008:

Roy's is selling gas again.
Currently the road is known as National Trails Highway and used mainly as either an access road or for nostalgia buffs seeking out National Old Trails, Route 66, or just looking for a more interesting way to travel then counting on speed not to fall asleep.